When Don Shapiro speaks, everyone learns, laughs and leaves inspired
"Over the years, I have heard countless presentations on 'Leadership.' Your presentation was by far the most beneficial. Exceptional."
Roberta Perry, Edwards Technologies
"Thanks for the terrific program at our Young Owner/Manager Conference. The group rated it a 9.28 on a 1-10 scale."
Gale Frentz, FTD Florist
"Don was fantastic. You felt like Don was a member of our team. Interactive, creative and engaging. It was great for the staff to learn from Don's years of experience."
Andy Cloutier, Greater Palm Springs Convention and Visitors Bureau
"Thank you for the outstanding presentation you made to our executive and unit manager group. I was quite impressed with the time you took to familiarize yourself with Lyon's operations. Very professional."
Maris Lapienieks, Senior Vice President, Lyon's Restaurants
"Don customized his program to our team's specific improvement areas. He was very personable and entertaining to keep everyone's attention, and my team has delivered significant growth numbers ever since."
Steve Oberle, Vice President, ZyXEL Technology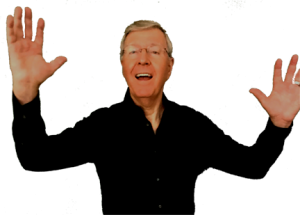 Motivational speaker Don Shapiro thrills audiences with his discoveries on leadership, customer value, sales, communications, change,  strategy, and life's choices. Each high energy, fun and interactive program Don shares includes funny and dramatic stories, down to earth examples the audience can relate to, and audience involvement. All backed by research.
Don's customized approach insures your group enjoys a memorable speaking event they can walk out of the room and apply.
Click on Don's speaking topics to learn more
Leadership Means Voluntary Influence
Love Change, Lead Change, Harness Change
Build a Bridge of Understanding – Better Communications and Emotional Intelligence
One Plus One Equals Three: 7 Keys to Successful Teamwork and Collaboration
Life Is A Fork In The Road – How to Make Better Choices
Don Shapiro is the co-author of The Character-Based Leader and President of First Concepts Consultants, Inc. Don loves to discover the unknown and share what he learns as a consultant, coach and motivational speaker. Clients say he ask the questions no one else ever asked!
The answers Don he heard turned into discoveries that boosted results. Results like sales teams exceeding their goals, faster growth, better leaders, more engaged employees, cultures that support strategy and dealing with massive change.
A motivational speaker who's "been there, done that"
From hourly employee to the C-Suite, Don Shapiro's journey has included sales, marketing, operations, service, and technology. He is a former Chief Marketing Officer of a national restaurant chain, sales executive, and Chief Information Officer. As a strategic management consultant, Don has helped organizations and their people in 35 industries to find new ways to boost results.
Inspire your group with a high energy, fun and interactive speech on Don's discoveries
Don gave his first speech when he was 14 and they haven't been able to stop him since! As a professional speaker, Don has inspired hundreds of groups with his high energy, fun and involving learning experiences. Each speech, workshop and training program is customized just for your group. He has spoken before corporations, non-profits, government, associations and community organizations.
A motivational speaker who customizes every program
For 30 years, Don has been known for his customized programs. He conducts phone interviews with a select number of people who will be in the audience. This helps him understand their world, challenges and frustrations. He also talks with key people in the organization to learn even more. This insures his program hits the bulls with the audience and helps to achieve the goals of the meeting. For clients who want more customization, he has visited facilities, headquarters and traveled with salespeople. Read more about Don's approach to customizing his programs.
"Every audience and group is unique. A speech has to be created just for them."
Read the rave reviews about motivational keynote speaker Don Shapiro
Email or call Don about speaking before your group, ask questions about his discoveries, or brainstorm ideas to inspire your group
Email: donshapiro@firstconcepts.com       Text or phone: 202-255-3727
Video Excerpts of Don Shapiro speaking
Speaking Excerpt on Stealth Value – The following excerpts are from a seminar on customer value delivered before the executives, marketing team and sales force of a technology company.
Speaking Excerpt on Understanding and Influence – "Sting the Scorpion" a personal true story with a message about how easy it is for misunderstandings to occur and how to avoid them
Don Shapiro's Blogs and Publications
Co-author and editor, The Character-Based Leader
A book published by The Lead Change Group that explores the nature of character and leadership